Independent Printing & Packaging now offers a complete selection of wide format print materials specifically to meet government social distancing standards. Choose Independent Printing & Packaging for wayfinding, branding and social distancing materials.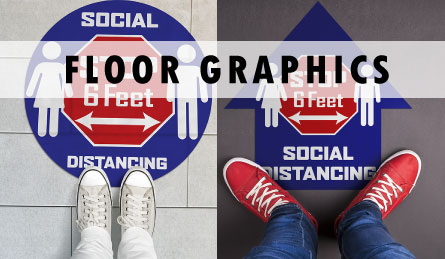 EZ Grip Indoor Floor Graphics: Easy to apply and durable, our floor graphics conform to uneven surfaces. Perfect for hospitals (wheelchair friendly!), grocery stores, and other essential business venues.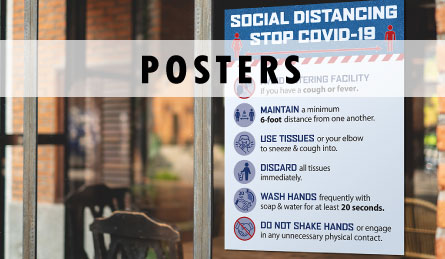 Posters: If your business is considered essential, it's important to keep your employees and customers safe. Look to our large 22×28" posters to communicate safe distancing instructions clearly and boldly.  Available in 24pt card stock or 3mm PVC material.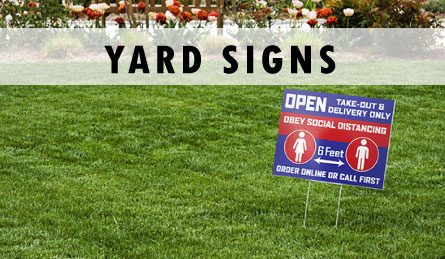 Yard Signs: Rigid outdoor signs to display your message. Double sided with two ground-stake options:  standard and heavy duty.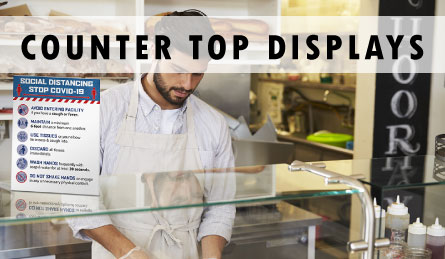 Counter Top Displays: Economical and easy to use. Choose from 24pt paper or 3mm PVC material on 12" single-wing easel.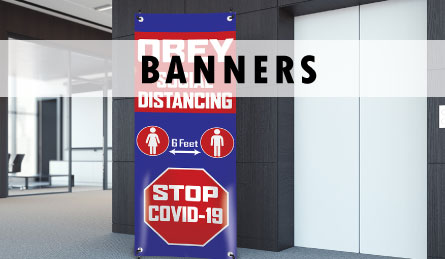 Banners: Two popular sizes, includes hemming, grommets, rope, street poles –all you need to create an impactful outdoor display.
Pop-up Banners: Select our best-selling X-Banner Stand for a cost-effective display of distancing instructions. You won't sacrifice style or durability. A lightweight solution featuring tri-legged frame and extendable legs.
Distributor Tips
Reach out to essential businesses: like healthcare, government offices, grocery stores, automotive shops, are some of the main essential businesses.
Be genuine: during these unprecedented times it's okay to be scared and also to want to help. Let your customers know you're available for them and offer what you do best: great customer care and your products.
Give back: if you can, provide a discount or donation. Giving never goes out of style!
Tell us: what other things are you doing in your business, and to help your customers? We'd love to hear your stories and ideas!
Independent Printing & Packaging is here to help you fulfill your immediate needs. Call 800-236-2439 for product and order information.