Your guide to an impressive presentation for selling custom printed folder products!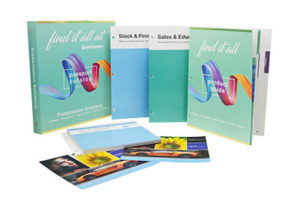 Click to navigate the passport online
We are excited to present our latest edition of The Passport Catalog, the resource for a vast array of print products to help your business grow.
We listened! While the core Passport Catalog elements remain, we added some exciting new features in our printed catalog, based on your valuable feedback.
A binder with separate booklets: providing greater flexibility to tailor your presentations perfectly to each of your customers.
Smaller size: a very accommodating, universal size. Tucks into your travel bag and briefcase easily.
New products: Look for these exciting new features:
"Folders In A Day": For quick-turn, price-buster, try our PF-105ND. Available online only—contact customer service to get set up
Horizontal format folder (Style C-U8): You asked for it, we've got it! 12×9" landscape format two-pocket folder.
Swatch Book: We've added all our house papers in an easy to use flip book. Includes lamination samples as well!
Download Passport PDF
Please allow 2-3 weeks for delivery.